Sparkular machine,as an advanced stage equipment, is used in concerts, variety shows, large parties, weddings, sports meetings, and other activities. Sparkular machine replaces stage fireworks as one of the most famous stage equipment to ignite the atmosphere of the show. Sparkular machine is popular and widely used by many show organizers. Recently, SHOWVEN, a professional stage equipment supplier in China, held a national tour exhibition with some show industry peers. Since the public has widely praised SHOWVEN's various high-quality special effect solutions, this national tour event has also received extensive attention from the public.
Chengdu is the core city of Chengdu Chongqing's economic circle in China. SHOWVEN stage equipment national tour starts from this city. Relying on the China Stage Art Performance Industry Development Forum, we focus on the regional economic market. Starting from Chengdu, we deliver brand ideas and disseminate the stage's beauty through offline stage special effects demonstration and intuitive experience.

SHOWVEN's products include sparkular series, flamer series, sonicboom smokejet series, CREEPER series low fog generator and dry ice machine etc. We elaborate on the stage special effects of large-scale activities such as bars, cultural and tourism indoor and outdoor scenes, variety shows, concerts, etc., focusing on applying the optimal scenario, and performing our products on site.
SHOWVEN always focus on the high quality solutions for our partners, which received widely recognition. It has always been criticized by show business partners that the special effects device made by domestic companies are with low quality and no innovations at all. The appearance of SHOWVEN start to change this bad impression. In particular, our original sparkular series of products have received great welcome and attention from the audience.

SPARKULAR SPIN
Sparkular Spin is a global pioneering SPARKULAR machine originally from SHOWVEN. With two 20° angled nozzles and a bidirectional rotatable structure, Sparkular Spin creates the waltz-like lissome and romantic sparks. This sparkular machine has an adjustable rotation speed. It is bi-directionally rotatable, which can create a variety of stage spark effects. With DMX controllable and 2/4 channels switchable functions, the professionalism of this sparkular machine is recognized by the public.

SPARKULAR JET
Sparkular Jet is original innovation by SHOWVEN with adjustable effect height up to 10m. Sparkular Jet has a built-in automatic air compressor, so no external pressure tank is needed, making it easier to set up with fewer usage restrictions. This sparkular  has a built-in pressure sensor and safety valve for double security. Besides, the sparkular machine has stainless steel housing, which is durable.

SPARKULAR Cyclone
With amazing sparks affect up to 10m, Sparkular Cyclone is equipped with an auto brake system, ensuring immediate stop even in max output. Sparkular Cyclone with waterproof design allows shows not interrupted by rain. This sparkular machine has an auto-brake system, ensuring immediate stop even in max output. Reinforced and high-strength stainless steel panel structure shows the durability of this sparkular.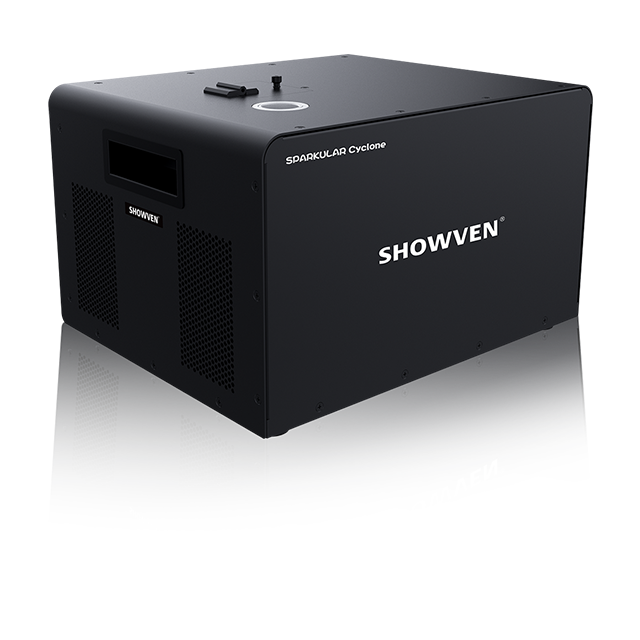 SPARKULAR mini
The mini sparkular is an affordable sparks solution based on a sparkular platform with fixed sparks effects at around 2-3m. Equipped with wireless remote and DMX dual control, the mini sparkular ensures versatile use for weddings, parties, clubs, cruise ships, etc. The mini sparkular is easy to operate, and you can start it with just one button. This sparkular machine for sale has a wireless remote control and DMX dual control. Besides, the mini sparkular is light weighted and portable, which is easy to carry. With a superior and compact design, the mini sparkular is welcomed by the public.

SHOWVEN carried out brand culture promotion, industry dynamics sharing, new product introduction demonstration, and technical docking exchanges through the national tour. SHOWVEN products are recognized by more and more people and are recognized by the public. We own 100+ patents in China and 8 PCT patents internationally. Besides the state-of-the-art technologies, SHOWVEN always focus most on the safety of our systems in design, in order to ensure the safety there will be various built-in safety sensor/programs inside each model of machine.